Luminaria
Sunday, Dec. 11 I Begins at Dusk
Luminaria has become one of the premier holiday events in Jacksonville and a legacy
for the Riverside Avondale neighborhood. This year, we will be entering in our 38th year year of hosting this wonderful example of community pride and dedication to our neighborhood. This timeless event is put together thanks to the work of many volunteers and sponsors like our Starlight sponsor, VyStar!
This community driven night includes events planned and coordinated throughout the Historic District. Kits, posters, ornaments and more now available in our Luminaria Store! By buying your Luminaria kit through RAP, you help ensure that RAP can provide Luminaria kits to our parks and places of worship at no cost to them.
This years poster was drawn by local artist, Kelsey Kolbenschlag aka KB Shuler Art! Kelsey's work perfectly embodies the spirit of Luminaria. You can find her work around the neighborhood in local businesses as well as at the Riverside Arts Market on select Saturdays!
Looking to help out by volunteering? We need help building kits and bagging sand! Click here to sign up for available shifts.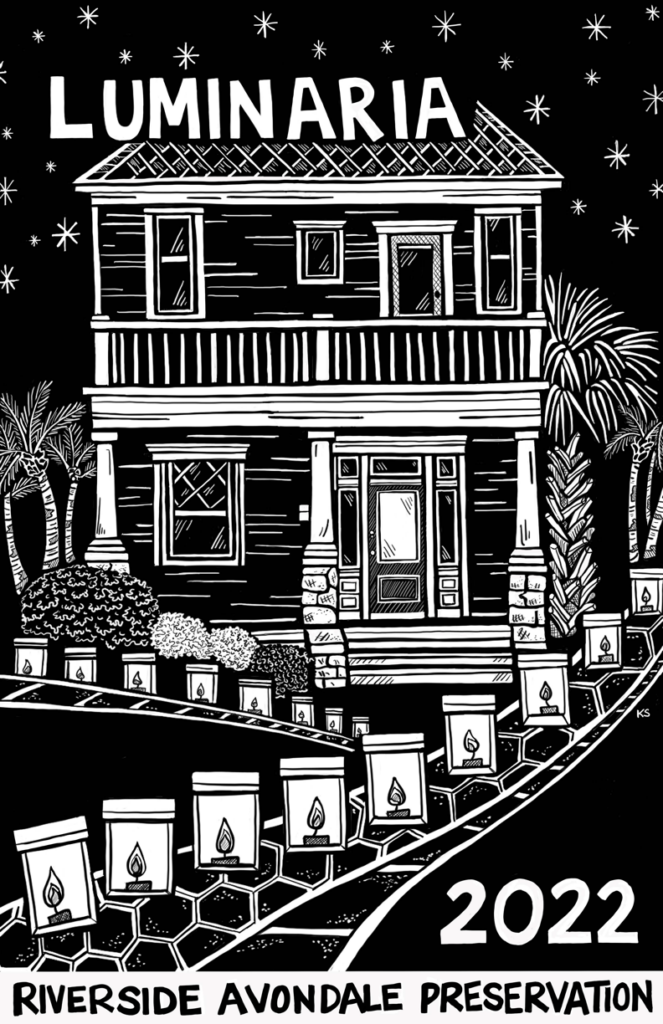 First Friday at The Buckland House
Friday, December 2 I 5-7pm
First Fridays are a RAP tradition. We seek to support small businesses, celebrate the work of our fantastic partners, and allow members to meet other members and - your neighbors!
Join us to wind down and kick off the weekend during this monthly event and support those who make our neighborhood special while gathering with friends and neighbors. We'll have food, drinks and music for everyone to enjoy.
This month, we're hosting First Friday right here at the RAP headquarters, The Buckland House! Join us for a fun, festive filled time as we gather together to prepare for our signature holiday event, Luminaria. We'll have hot cocoa, cookies and other light snacks to serve as we put together kits for the big event.
First F-RIDE-Day!
First Friday of Every Month
10am to Noon I $35 per rider
Riverside Avondale Preservation is teaming up with
Art Bikes Jax
and bringing our First F-RIDE-Day! The first Friday of every month, you can take a ride around Riverside Avondale with our Executive Director, Shannon, and learn about all that's happening currently in the neighborhood as well as the history - all while riding art!
The bike tour is 2 hours long and starts at 10am. You'll need to book your slot ahead of time which can be done
here
or visit Art Bike Jax's website directly.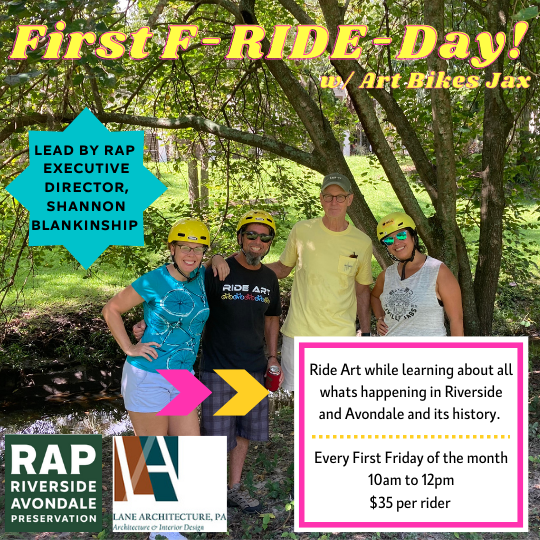 RIVERSIDE ARTS MARKET - A weekly market featuring over 100 artists, makers and farmers.
Every Saturday, ~200,000 visitors per year
FIRST FRIDAY - A monthly meet up featuring food, drinks and live music at a local business.
Every First Friday on the Month, up to 100 participants
LUMINARIA - Luminaria brings neighbors together as they walk along candle-lit sidewalks to socialize with friends.
December 11, 2022, at dusk. Estimated 15,000 participants
HOME TOUR - A celebration of Jacksonville's architectural history with Riverside and Avondale's National Historic Registered neighborhoods. 
April 15-16, 2023, estimated 3,000 visitors
GARDEN TOUR - Draw inspiration from a variety of gardens in the historic district. From manicured landscaping to wild and natural, there are gardens for all tastes. 
May 14, 2023, estimated 1,500 visitors
Become a member to begin receiving our regular newsletter with upcoming events, road closures and important neighborhood updates.
You don't have to live in our neighborhood to support our work!
Learn more about the history of Riverside Avondale and take a tour of the neighborhood with Go Tuk'n.