August 6
First Friday - CANCELLED
Northeast Florida is making national news right now for the wrong reasons. As we continue our work to build and strengthen our community, we also want to do our part to promote safe ways to enjoy the neighborhood.
Rather than host our planned First Friday this week at Bold City Brewery, we encourage folks to check out Art Bikes Jax which are housed at Open Road Bicycle in Avondale. Art Bikes are electric bikes you can rent to tour Jacksonville's amazing collection of public art. You can book a self-guided 3-hour tour or a RAM Ride! Arrive at the Riverside Arts Market in style! Tour options here. Go Tuk'n continues to offer fantastic, guided tours of the neighborhood in an open-air micro shuttle, or visit one of the 26 Historic Parks covering 75 acres in Riverside and Avondale!
That being said, we are canceling our planned First Friday at Bold City on Friday 8/6 from 5-7 pm. I encourage you to pick up a growler for carry out and enjoy a local craft beer from the best neighborhood business in town. The Bold City family is always doing their part to help the great causes in Jacksonville that make us all stronger. Thank you, Bold City Brewery!
Stay safe everyone.
RIVERSIDE ARTS MARKET - A weekly market featuring over 100 artists, makers and farmers.
Every Saturday, ~200,000 visitors per year
First Friday - A monthly meet up featuring food, drinks and live music at a local business.
Every First Friday on the Month, up to 100 participants
LUMINARIA - Luminaria brings neighbors together as they walk along candle-lit sidewalks to socialize with friends.
December 12, 2021, estimated 15,000 participants
HOME TOUR - A celebration of Jacksonville's architectural history with Riverside and Avondale's National Historic Registered neighborhoods. 
April 9-10, 2022, estimated 3,000 visitors
GARDEN TOUR - Draw inspiration from a variety of gardens in the historic district. From manicured landscaping to wild and natural, there are gardens for all tastes. 
May 7, 2022, estimated 1,500 visitors
Go Tuk'n Historic Tour
Join Go Tuk'n for an engaging and enjoyable tour of Riverside Avondale. Learn about the architecture and history that make this area one of the most unique in Jacksonville while discovering the hidden gems that you'll want to tell your friends about again and again. On each tour, you'll be riding around in a luxury, eco-friendly, Tuk Tuk. For more information on how to book your tour, click here.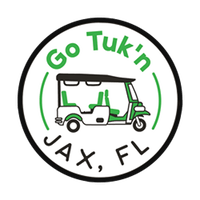 Be the first to know about RAP events.