Riverside Avondale Preservation's
2nd Annual Garden Tour
After a successful first year, Riverside Avondale Preservation's Garden Tour is set to be held on Saturday, May 7 from 10 a.m. to 4 p.m., rain or shine. This tour brings neighbors and businesses together to share the transformative nature of front yards, backyards, gardens and landscapes that are sure to give inspiration and encourage budding gardening ideas to bloom. Tour admission includes access to *15 properties with varying garden styles. Live music, public art, refreshments, and activities are incorporated into each stop. Flowers, vegetable gardens, native plants, beautiful backyards make this tour a great way to spend a Saturday and the BEST Mother's Day gift!
Admission also includes access to The Cummer Museum of Art & Gardens plus recommended food and drink stops at local restaurants.
General Admission is self-guided although guided tours are available through Go Tuk'n, Art Bikes Jax, and via
the Bicycle Tour led by ZenCog.
Price is $20 in advance, $25 on Event Day, cash or card. Tickets can be purchased online or in person at these Starting Locations on May 7 between 10-4pm:
RAP Office, the Buckland House, 2623 Herschel St.
Mediterranean Resort Experience, fan-favorite from 2021, 1534 Avondale Ave.
Creekside Woodland Surprise, 1610 Geraldine Dr.
At the starting location, show your ticket purchase and receive the full Garden Tour Program featuring details about each garden on the tour, a map, and all of the activities for a full day in Riverside Avondale. Or pay with cash or card and begin the tour.
Bromeliads and Succulent Paradise
2761 Herschel Street
Homeowners: Ramie & Travis Tucker
When owners Ramie and Travis Tucker relocated to Jacksonville from Atlanta, they brought with them a Monstera plant. Today, cuttings from this plant can be found all over their incredible backyard featuring a pool with floating bromeliads and several succulent planters. The couple has a tropical surround featuring kumquats, loquats, oranges, and limes. Neighborhood cat, Penny, has a heated A-frame cathouse with poolside views.
Learn about different plant propagation methods in the front yard with Lush Leaves, who recently opened a store in San Marco. Lush Leaves specialize in growing houseplants and tropicals and will be demonstrating propagating monstera Deliciosa, snake plant, vining and upright philodendron and succulents throughout the day for those curious and wanting to discover. 
1878 Farmhouse Garden with Art and Style
2767 Herschel Street
Homeowner: Richard Ceriello
When Richard Ceriello was searching for a house to buy in 1985, an 1870's Victorian abandoned house that was barely salvageable wasn't exactly what he was seeking. It had cracked bricks, buried carpets, and broken windows. Today, the incredible live oak that dominates his backyard incorporates a stage for backyard performances. His art collection rivals our local museums, and it reaches into the yard on all sides. A secret koi pond, replica farmhouse shed, and intimate dinette make every inch of space feel magic. Every plant and tree has a story which will be shared during your visit.
Musical performances throughout the day from Darren Ronan School of Music. Live auction of the 2022 Garden Tour Art Work, hand drawn by Mary Joan Hinson at 4pm. Raffle drawing for the GloDea bench at 4pm.
Japanese-influenced Oasis
2779 Oak Street
Homeowner: Connie Jo Gandy
The garden layout of this long, narrow lot is dictated by the mature live oaks that dominate the space. Pleached Arbequina olive trees and pineapple guava hedge along James Street and espalier citrus and fig trees along the West fence allowed homeowner Connie Jo Gandy to add food plantings without taking up much space. Plentiful milkweed and nectar plants support Monarch migration and lots of pollinators, fulfilling efforts to support wildlife and create an organic, river friendly yard. The Craftsman home style led to elements with Japanese influence such as the Niwaki trees, Kusari-Doi rain chains, water elements and Shoji Screens. Together, these evoke a sense of peaceful order. The small lawn in the back acts as a cooling counterbalance to the patio area and a place to play Bocce ball when entertaining. Walk this circular pathway around the home to gain inspiration for landscape design. 
On the porch, learn more about vertical gardening. JoAnne Krestul began growing vertically seven years ago as a way to provide her family with good nutrition with the ease of aeroponic gardening. Aeroponic garden systems grow a wide variety of fruits, vegetables, herbs and flowers without the learning curve or time commitment of traditional gardening. This type of gardening system grows plants with only water and nutrients, uses about three square feet of space, and grows more healthy food in a quicker amount of time than with dirt!  
Vertical Gardening by JoAnne will be sharing how easy the vertical garden system is to assemble, how it works and the many foods you can enjoy grown conveniently and sustainably.
Grace the Florist Building
1612 Cherry Street
Homeowner: Scott Berglund
This building was constructed as a florist shop and included a large greenhouse incorporated into the original 1928 design. The greenhouse, now demolished, was larger than the original building. Original details of its former use can still be found in the cast-stone flowers in the cornice just below the roofline. Today, homeowner Scott Berglund loves highlighting the property's original use and has hired Jon the Gardener to landscape in floral exuberance. The newly renovated rear courtyard gardens are a special treat, and the Mediterranean Revival architecture of the space feels transformative.
Purchase floral keepsakes for your Mom from local producers. Listen to the saxophone throughout the day.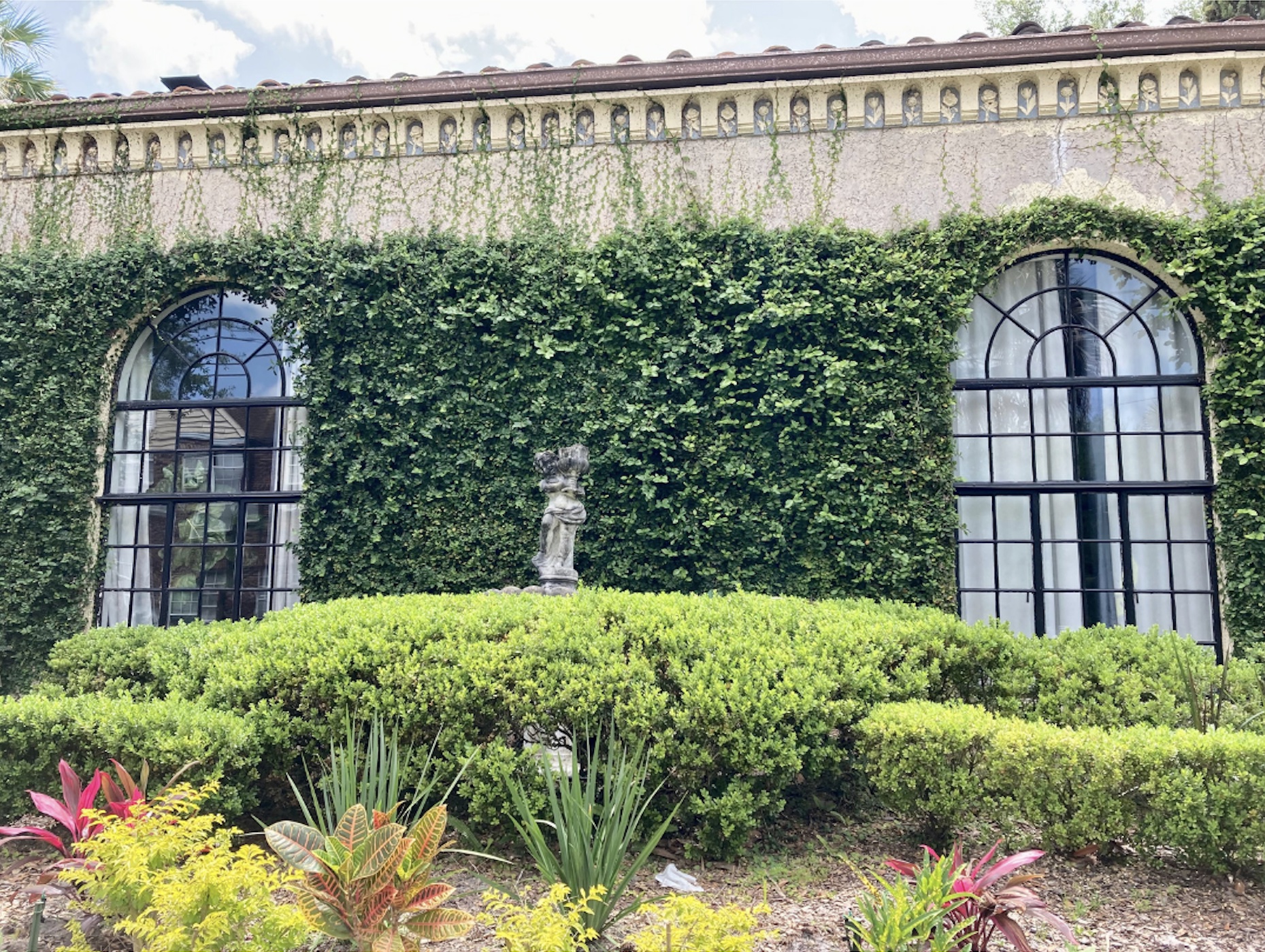 Mediterranean Resort Experience
1534 Avondale Avenue
Homeowners: Rick Pariani and Susan Painter
This property is a fan-favorite return from the inaugural Garden Tour! Landscape Architect Rick Pariani and Master Gardener Susan Painter show their skills in this transformative backyard space. When the couple bought this 1927 Mediterranean Revival house five years ago, the home and its greenery needed a creative update. The first thing to go was the chain link fence that went around the entire property. Now in its place is Cancello de Giardino dei Querce Gemelle di Susanna, or Susan's Twin Oak Garden Gate. The owners created walkways that lead to garden plots that Susan has dedicated for vegetables and edibles of many kinds – like Southern Highbush blueberries and a Meyer Lemon tree. In the backyard and garden area, Rick has opted for clusters of vibrant plants – no lawn required. Look for the sculpture they named "Rick's Garden Folly" in the back near the guest house. The front yard is groomed to perfection and has a perfect view of Native Park, which is also on the tour.
Sculpture Garden
1384 Belvedere Avenue
Homeowners: Felicia and Greg Bowen
Make yourself at home in the backyard of Felicia and Greg Bowen's Spanish style bungalow. Built in 1924, the couple has called this home for 21 years. Plants are positioned throughout the walkways and an eclectic collection of sculptures and objects d'art direct the eye from one location to the next. Learn about the "Stonehenge from the St. Johns Quarter" and get inspired to landscape without grass.
Relax in the space and enjoy live music from cellist Robin Shin from 12-2pm. Watch members of the Jacksonville Art Guild do open air painting, gaining inspiration from the people and the space.
Backyard Kitchen Entertaining
1379 Belvedere Avenue
Peter and Daria Wicks
Homeowners Peter and Daria Wicks named this property Broad Reach as a memento from their sailing days. They know about hard work, and they've taken their sailing passion and put it towards their yard design. Seeking a low maintenance yard with water sparing plants, you'll see a balance of planted areas and walkways opening up to a backyard kitchen and patio perfect for any outdoor gathering. The kitchen is surrounded by flowering and fruiting trees including Hawthorne and Bottlebrush. The space is surrounded by the beautiful unique masonry from their historic home. Check out the front yard bee bath. If you drop a few pennies in the bath, the copper prevents algal growth and keeps the water clean. 
Enjoy snacks hot off the grill and watch members of the Jacksonville Art Guild do open air painting, gaining inspiration from the people and the space.
Red Cottage Permaculture Garden
1278 Talbot Avenue (Front Yard Only)
Homeowners: Bruce and Kyle Musser
During their time at home during Covid homeowners Bruce and Kyle Musser dedicated themselves to creating a welcoming and inviting space for their talents, their neighbors, and the birds and bees. This permaculture front yard utilizes layers of plant material and a variety of native, edible, and the signature "Sunflower" that make this small space very meaningful. The flower and vegetable garden became their focal point for joy and whimsy. They let plants like dill grow to seed – butterflies love it and lay their eggs on the branches – and they build the soil by composting in place using the 'chop and drop' technique when trimming or culling each plant. Notice the oak leaf hydrangea, redbud tree, and herbs. Relax in the front yard Adirondack chairs and wave at the neighbors as they walk through the yard via the sidewalk on Talbot Avenue and understand why this yard truly "gives back". 
Parking is tight on this street. Please be mindful of all yards and park on the road.
Creekside Woodland Surprise
1610 Geraldine Drive 
Homeowner: Deanna Howard
Recently overhauled, you'd never know that this front yard was brand new. Landscape Architect Jon the Gardener created a wonderful xeriscape front yard for homeowner Deanna who wants a beautiful landscape without the maintenance. Take the front yard pathway behind the home and you will be shocked. This creekside property feels like a mountain escape! Big Fishweir Creek passes by this home for a perfect kayak or canoe launch point.
Enjoy backyard games and watch en plein air painters from the Jacksonville Artist Guild gain inspiration from the landscape.
A Jacksonville Jungle
3852 St. Johns Avenue
Homeowner: Kevin Troy
Whether in Bali or Jacksonville, homeowner Kevin Troy enjoys the same "jungle" landscape in his backyard. Designed by famed landscape architect Raymond Jungles, this backyard features timeless design and a sense of wonder for all living organisms. Little Fishweir Creek flows through the property, appearing built into the yard. A pool looks as if it's connected to a series of ponds which eventually connect to the creek - but are all separate water elements. Dramatic jungle flora line the massive stone stairways and paths that create a circular flow through the garden with multiple seating areas and much to explore. The yard is designated "Backyard Wildlife Habitat" by the National Wildlife Federation because of its abundance of food, water, shelter, and cover. 
"Jungle Drinks" prepared by Wildcrafters available at this property, for sale. Learn more about the work of Raymond Jungles while relaxing. Parking for this property is best along Montgomery Place or Pinegrove Ave. at St. Johns Ave.
Back To Nature at Pivot Pilates
1250 McDuff Ave. S.
Owner: Glenn Morgan
No matter the square footage or zoning, every space has the ability to get back to nature. The eco-friendly, native inspired front yard of Pivot Pilates reflects the wellness that the owner and staff want for their clients. Plants are selected to be drought tolerant and attractive to birds, bees and other pollinators. The garden was created and is maintained by a group of volunteers and is intended to showcase that even businesses can have a positive impact with landscaping choices.
Owner Glenn Morgan says clients look out the large plate glass windows to view the vibrant colors that draw in the gathering of winged creatures. There's even a resident squirrel that enjoys the Pilates Reformer!  Come inside to learn about the variety of Pilates, massage, movement classes and private wellness care Glenn and several associates offer.  
Spruce will be set up inside showcasing unique anthuriums, philodendrons and Hoyas that thrive indoors and will be available to answer your houseplant questions. Spruce is planning to open Jacksonville's first plant bar later this year in Murray Hill and is currently nestled in a warm and inviting space in the shops of the St Johns Town Center.
Parking is available on McDuff Avenue. Please do not utilize the privately owned lot between Pivot Pilates and the neighboring building.
Cummer Museum of Art & Gardens
829 Riverside Avenue
"Idyllically located on the banks of the St. Johns River, the Gardens have a fascinating history stretching back more than 100 years and bear the imprint of some of the foremost names in landscape design and horticulture, including Ossian Cole Simonds, Ellen Biddle Shipman, Thomas Meehan and Sons, and the fabled Olmsted firm. The involvement of these prestigious firms gives national importance to the Cummer Gardens. Throughout the year, the gardens are ablaze with rare horticultural specimens nestled under a canopy of mature live oak trees. In addition to the lush plantings, features such as reflecting pools, fountains, arbors, antique ornaments, and sculptures help create a special outdoor space that provides a perfect complement to the Museum's Permanent Collection." – Cummer Museum website
We are so fortunate to have these well maintained and historically managed English and Italian gardens in our community. Treat yourself today with a visit to the museum gardens to remind yourself how lucky we all are to live in a wonderful city along the St. Johns River. (Image of the gardens, give photo credit to Ketterman, and logo)
The museum is Free. Use the main entrance and ask for directions to the gardens. 
Riverside Avondale Community Garden
1513 Azalea Terrace @ Park Street
Learn what vegetables are growing at the Riverside Avondale Community Garden with over 70 raised bed food gardens tended to by their seasonal plot holders. The garden space and each of the 4 x 8 foot plots were built in 2016. Join the waitlist to reserve a plot for yourself or learn more about raised bed gardening from some of our seasoned gardeners.
Native Park
3306 Park Street 
This triangle of native vegetation is a showcase of plants that is managed by the Florida Native Plant Society – Ixia Chapter. Regular plant maintenance days make this park a great learning laboratory for the Native Plant Society members. The park is a must visit for anyone curious about native plants. Labels on each plant within the park help you to envision the species in your home. Experts will be on hand to discuss native plants and botany.
Peace Park Memorial Rose Garden
Future site of the Labyrinth
1515 Mallory Street
Labyrinths are not mazes; they are pathways that wind in a circuitous way to the center. They symbolize our spiritual journey inward with no dead ends or decisions to be made. With constant stress and noise around us, having a neighborhood park provide solace is exactly how Peace Park was envisioned. On May 7, World Labyrinth Day, the newly created Friends of the Labyrinth at Peace Park will kick off their two-year project to raise the funds to construct a labyrinth in this space. To make the day meaningful, designer Nathan Wiles of Innate Creations will be on site with a painted replica of the project. Learn more and find peace. 
"Walk-as-One" at 1pm at the proposed site of the future Labyrinth.
Walk-as-One, World Labyrinth Day
1515 Mallory Street, 1pm
Visit Peace Park Memorial Rose Garden to see the Future site of the Labyrinth and "walk-as-one at 1:00 p.m. or World Labyrinth Day.
Spruce Plant Sale
Pivot Pilates, 1250 McDuff Ave. S., 10-4pm
Spruce will be set up inside showcasing unique anthuriums, philodendrons and Hoyas that thrive indoors and will be available to answer your houseplant questions. Spruce is planning to open Jacksonville's first plant bar later this year in Murray Hill and is currently nestled in a warm and inviting space in the shops of the St Johns Town Center.
Lush Leaves Plant Propagation Workshop
2761 Herschel St., 10-4pm
Lush Leaves specialize in growing houseplants and tropicals and will be demonstrating propagating monstera Deliciosa, snake plant, vining and upright philodendron and succulents throughout the day for those curious and wanting to discover.
Gifts for Mom
1612 Cherry Street, 10-4pm
Pick up a unique locally made gift for Mom from local artists featuring their "garden" themed items. Embroidery and pottery.
Wildcrafters
*On location for the Garden Tour at 3852 St. Johns Ave.
Delicious booze-free craft cocktails for sale during the Garden Tour - Jacksonville's first nonalcoholic bar serving kava, teas, and more. Select drinks available on the Garden Tour.
Live Music
Darren Ronan School of Music, 10-4pm, 2767 Herschel Street
Atmospheric Therapy with Morton, 10:00-11:30, 1612 Cherry Street,
Robin Shin, cellist, 12-2pm, 1384 Belvedere Avenue
En plein air painting from the Jacksonville Artist Guild
1379 Belvedere Avenue
1612 Cherry Street
1610 Geraldine Drive
Live Auction, Raffle, and Art Sale
2767 Herschel Street, 4pm join our featured artist for the raffle of this year's custom artwork, and find out if you won the custom GloDea bench! Garden Tour t-shirts for sale. 
For Sale: Garden Tour T-shirts, Limited Edition Garden Tour giclee Print
(Image of Glicee and t-shirt)
Cummer Cafe
829 Riverside Avenue
Lunch Spot! The Cummer Cafe is such a treat. Food and refreshments can be enjoyed in the Café, on the patio, or in the Museum's historic gardens. Reservations are recommended for speedy service. https://www.cummermuseum.org/visit/cafe  Check out the historic gardens while you're there.
Harps Pub and Grill
4070 Herschel Street
Lunch stop! At the corner of Herschel and Woodmere, Harps is a neighborhood favorite with a sprawling patio overlooking Big Fishweir Creek. Recent garden box additions help to buffer noise from Herschel Street and create an ambiance for front patio guests. Check out the garden areas while you're there.
Iguana On Park
3638 Park Street
Drink stop! (Great for lunch too!) Iguana on Park offers an exciting fusion of Latin American cuisine, featuring eclectic tacos, unique entrees, delicious spirits and creative cocktails. Check out their chef inspired outdoor garden with over 100 peppers and herbs. Ask for the Garden Margarita and enjoy this refreshing blend of cucumber and cilantro muddled with house made sour mix at their outdoor bar.
Garden Margarita only $6 for Garden Tour participants with wristband and ½ price Mexican Street Corn. For fun, try their Jello Shot assortment for $3 a piece or 5 for $12.
Wildcrafters
*On location for the Garden Tour at 3852 St. Johns Ave.
Jacksonville's first nonalcoholic bar serving kava, teas, and booze-free craft cocktails for those who want a night out in Five Points without the hangover. Visit their store location at 2105 Park Street.
Since 2019, Rubricx has been committed to making the vision of their clients' ideal outdoor space a reality. They believe in quality over quantity — and it's evident in the residential and commercial projects they do. To check out more of their work, they encourage anyone interested to visit their showroom. They have designed an outdoor oasis indoors that allows visitors to fully appreciate the quality of their work.
Jon the Gardener Landscape Design has one goal when you're their client: creating the landscape of your dreams. Specializing in both residential and commercial properties, they have the knowledge required to create a sustainable, beautiful outdoor space year-round. You can check out Jon the Gardener's work at two stops on the Garden Tour this year: 1612 Cherry Street and 1610 Geraldine Drive.
Cultivate is your local one-stop shop for all things home, garden and children. Committed to stocking the store with eco-friendly, American made products, you will find a variety of hand-curated healthy-lifestyle products. They also regularly hold community events and workshops, so be sure to check their website for upcoming offerings.
Lovers of all things antiques and vintage can't miss the over 3,000 square feet of curated items at Cool Stuff Vintage. From art to original vinyl records, you're sure to find the unique piece of your dreams. You can shop at their storefront Thursday to Sunday or anytime on their Instagram @coolstuffgang.