Riverside Avondale Preservation is pleased to honor individuals, organizations and businesses within our historic district that exemplify outstanding achievement in historic preservation and the welcoming and inclusive nature of our neighborhoods.
Our judges reviewed each nomination with an eye toward how the nominee reflected RAP's Core Principles:
Preserving and promoting the historic fabric.

Supporting vibrant, independent, local businesses.

Supporting quality of life improvements.

Honoring our community.

Promoting respectful, mutually-beneficial relationships.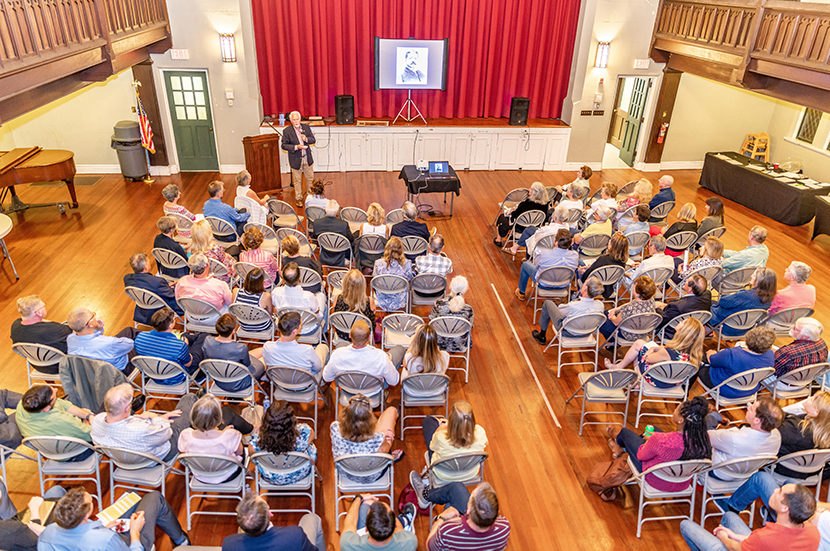 We are pleased to announce the 2019 winners.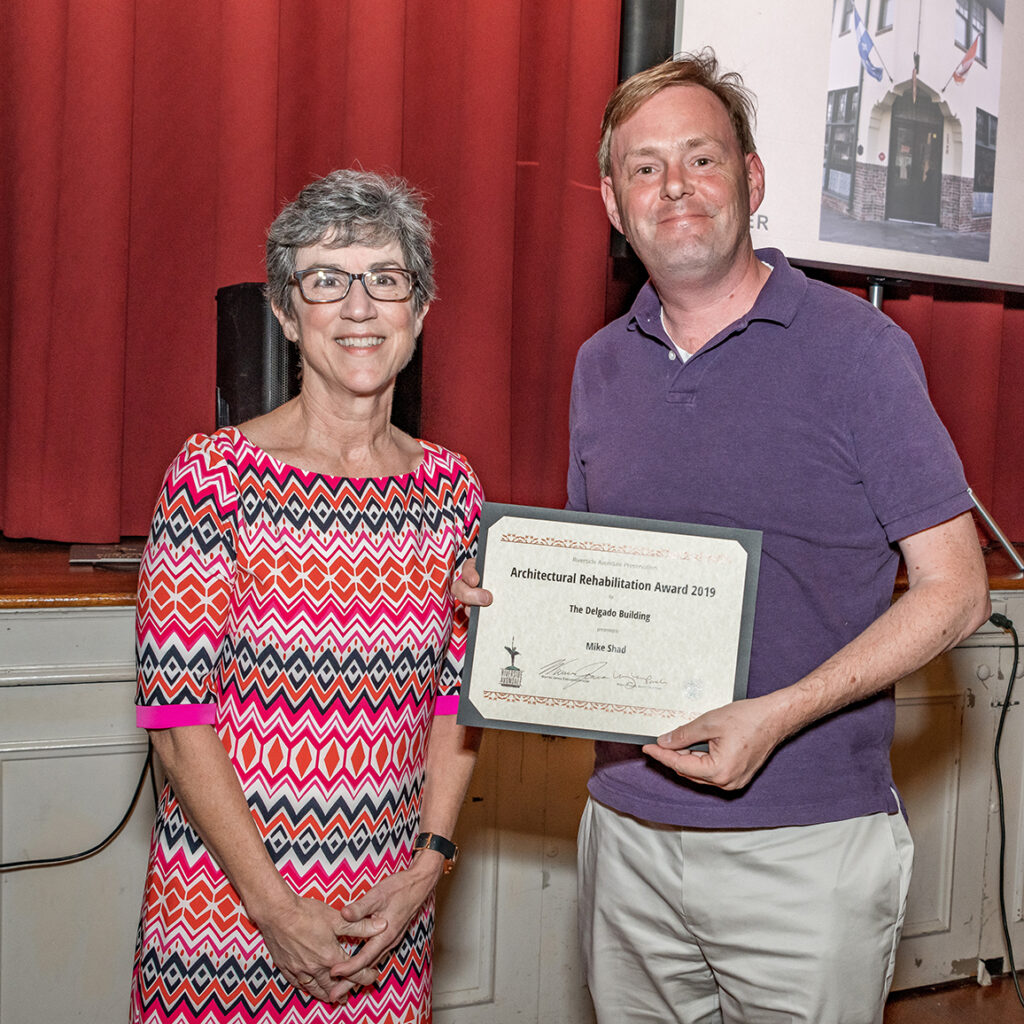 Architectural Rehabilitation Award - Commercial
Winner: The Delgado Building
Representative: Mike Shad (Award accepted by Jack Shad)
The Delgado Building restoration project involved a complete rehabilitation of this historic mixed-use building. The structure was designed and built in 1919 by noted architect Leeroy Sheftall for his mother-in-law Delores Delgado. The restored building has five apartments, a hair salon and a restaurant as tenants. This prairie style structure is one of the finest examples of a small mixed use building in the district; it fits beautifully in its context and serves as example for contemporary designers to follow. We are thrilled to applaud its careful restoration.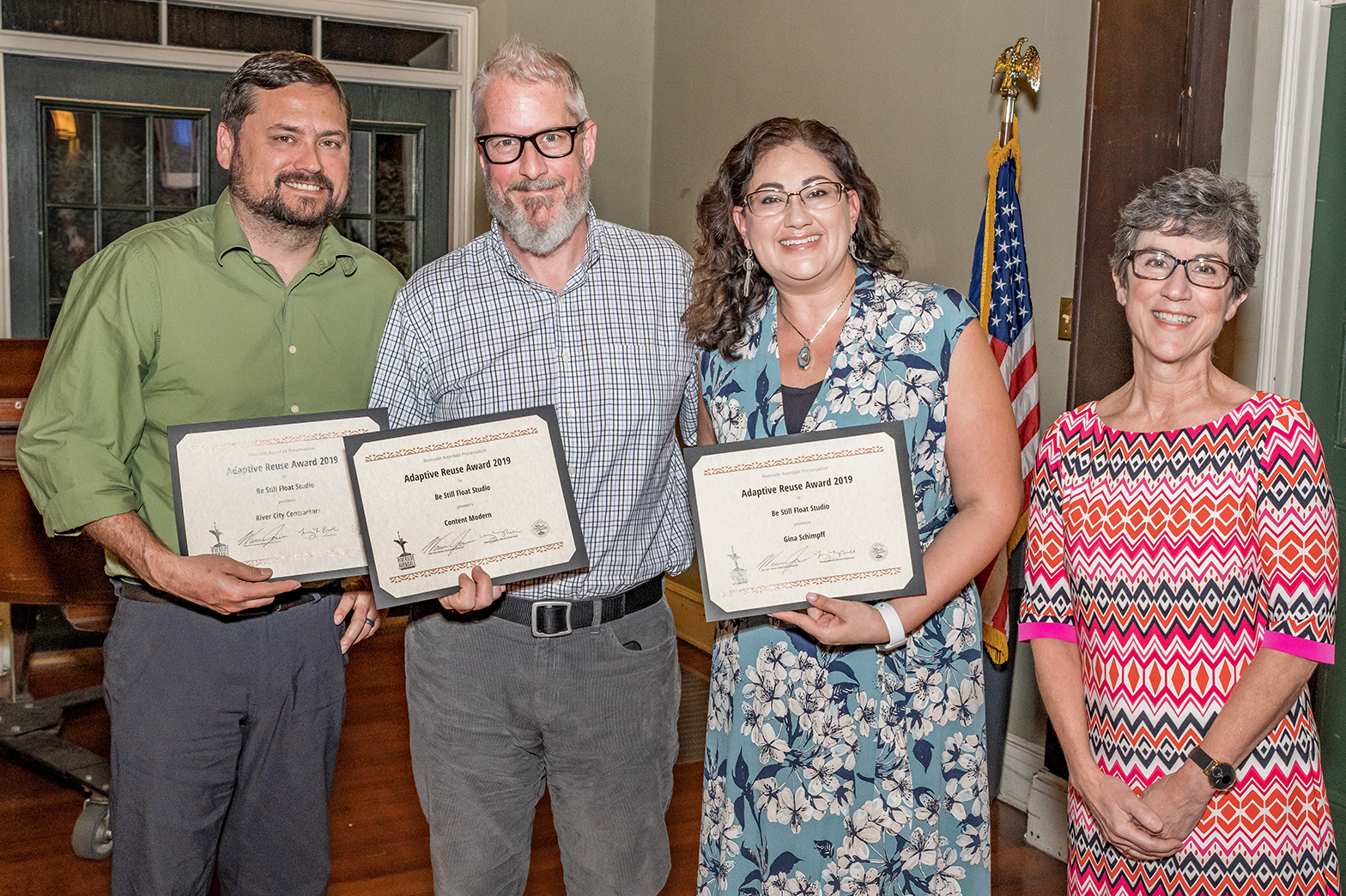 Adaptive Reuse Award
Winner: Be Still Float Studio
Representatives: Gina Schimpff, Content Modern, River City Contractors
The just-opened Be Still Float Studio has breathed life into the corner of Lomax and Riverside. The project includes overhauling the exterior with a crisp makeover of the building it shares with Silver Chiropractic. The team also completely gutted the former law offices and transformed them into a serene, calming wellness center. The owner, Gina Schimpff, has gone above and beyond to research and experience float studios around the country and has used that exhaustive knowledge to develop the premier float studio in Northeast Florida. Be Still Float is truly a pearl within a simple shell. We hope it will become a destination in NE Florida and be a place where people find an unexpected experience.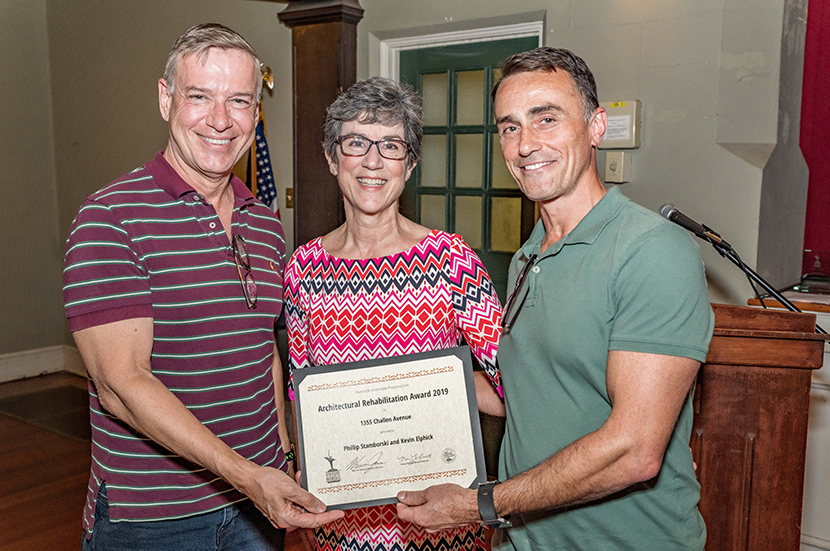 Architectural Rehabilitation Award -Residential
Winner: 1366 Challen Avenue
Owners: Phillip Stamborski and Kevin Elphic
Phillip and Kevin purchased a tired and rundown home on Challen Avenue. The home had been modified over time but still retained many of its original charming elements. They removed the unfortunate replacement windows on the front elevation and replaced them with historically appropriate doors and windows. The pair carefully returned the rest of the home and landscaping to its original brilliance with careful attention to detail outside and an eye to modern comfort inside.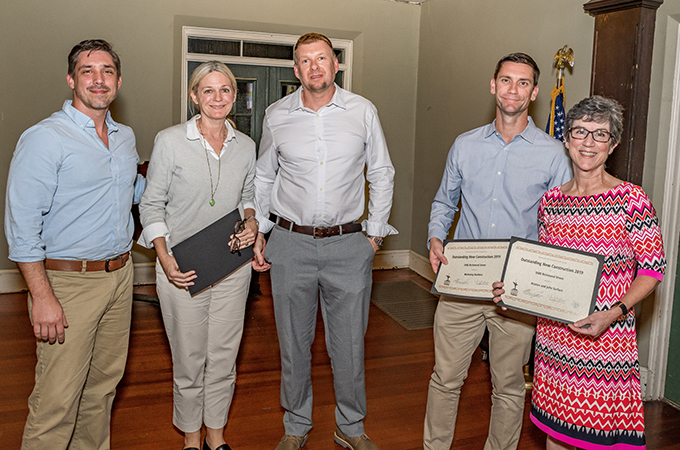 Outstanding New Construction
Winner: 3680 Richmond Street
Owners: Kristen & John Surface
Representatives: McAneny Builders, Starr Sanford Design
This new residence for John & Kristen Surface is a beautiful project and a wonderful example of a transitional design perfectly appropriate for the historic district. The design incorporates traditional materials including cedar shingles, brick masonry and stone. The massing of the home is classic and beautifully scaled. The design uniqueness derives from the use of these materials and elements in a crisp, elegant, and modern way.  The total effect is a timeless design which will continue to add to our neighborhood's beauty for years to come.
Residential Craftsmanship Award
Winner: 3528 Oak Street
Homeowners: Patty & Don Destephano
Representatives: Jack Gqmpint of Legacy Construction of Jacksonville, Gerry Crouch of Sunscapes Landscape Design, Paul Richman of Paul Richman Masonry
This backyard makeover was a truly collaborative effort between the contractor, landscape designer, and brick mason. The team worked in a small space to add a new garage, rear entry and courtyard. They paid careful attention to the installation of all the components. The carpentry is simple and beautiful, the masonry classic and precise, and landscaping soft and inviting. The final work has created a comfortable and inviting extension of the family living space.
Wayne Wood Preservation Award
Winner: John Hurtubise and Richard Goodman
John and Ric have not only preserved their home on River Boulevard, for many years, but they owned and managed a number historic rental properties in the historic district that are very well maintained and preserved. One beautiful example is the Montague, also on River Boulevard. John and Ric were very involved with RAP in the 1990s, and were instrumental in rezoning St. Johns Quarter to RO Zoning. Their preservation focus led to St. John's Quarter keeping a great balance of restored offices, homes, and apartments. On top of all that, they have supported many fundraisers that strengthen our art and culture and preserve our architecture. For their long time effort and love of our community we are proud to award to John and Ric, the Wayne Wood Preservation Award presented to an individual or group who, through persistence and sustained activity, has preserved, promoted, advocated and celebrated our historic fabric and unique character.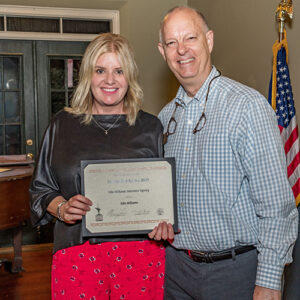 Riverside Avondale Preservation Stewardship Award 2019
Winner: Edie Williams
Edie Williams was actually nominated in two categories, an Historic Preservation Award for the work she has undertaken to preserve the historic structure built in 1911 that is her office. And, a Good Neighbor award for her work with the John Gorrie Dog Park and Memorial Park Association.
One nominator said, "When the Friends of John Gorrie Dog Park needed a sponsor for monthly clean ups, Edie stepped right up. Her team was there each week, bringing coffee, bagels, dog bagels--you name it, they delivered! Edie and her team are always so positive and willing to help the neighborhood. Edie encouraged the dog park to apply for a $25,000 grant through State Farm. Edie was very involved in helping us with the grant, she is an incredible example of a "Good Neighbor.""
Another nominator wrote that Edie also helped the Memorial Park Association during their Veterans Day Concert.
"Memorial Park Association needed a way to transfer older guests from the parking lot to the park for the concert. She not only loaned her famous State Farm golf cart to the event, she had an employee drive the vehicle. For these reasons the committee is awarding Edie the Stewardship Award for her preservation and stewardship efforts in our community."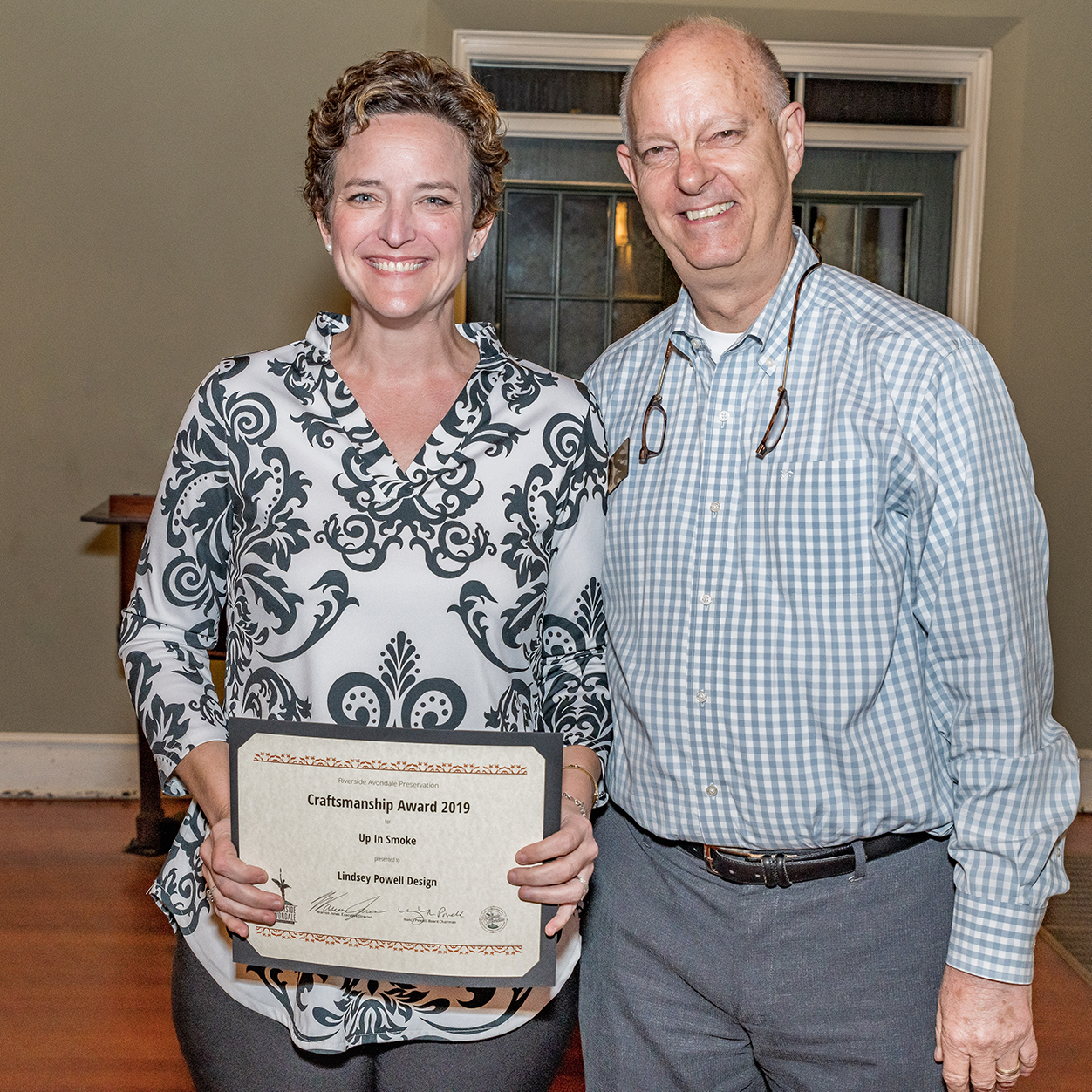 Commercial Craftsmanship Award
Winner: Up In Smoke
Representatives: Steve Williams (Harbinger Signs), Lindsey Powell (Lindsay Powell Design), George Kassis (Up In Smoke)
The owner of Up In Smoke in the Shoppes of Avondale, George Kassis, was getting very unwelcoming feedback from the community in person and on social media because of the out-of-place signage look and feel. Steve Williams, of Harbinger Sign, was concerned about the signage appearance also and worked with George on a solution. Steve approached Lindsay Powell, a longtime friend, and asked if she could work with Up In Smoke on a cool new logo for free. They all worked together on a new design in sleek black. Red and white vinyl lettering was replaced with tasteful frosted lettering. For their efforts the Awards Committee selected Steve and Lindsey for their work and George for his considerable extra investment to bring the style of the historic district to the building.
Award of Merit - Centennial Celebration of the end of WWI
Memorial Park Association
City of Jacksonville Parks, Recreation and Community Services
Michele Luthin
Karen McCombs
Kelly Varn 
This day long event celebrated the 100th anniversary of the end of WWI and honored the veterans who served in all our nation conflicts. The event combined music, art, celebration and remembrance. A lovely glass poppy garden was exhibited thru a gift from the Hicks family with art work provided by students from Jacksonville University. The tireless efforts of the Memorial Park Association, volunteers and participants created a meaningful event for our neighborhood and our city to come together and enjoy this special park.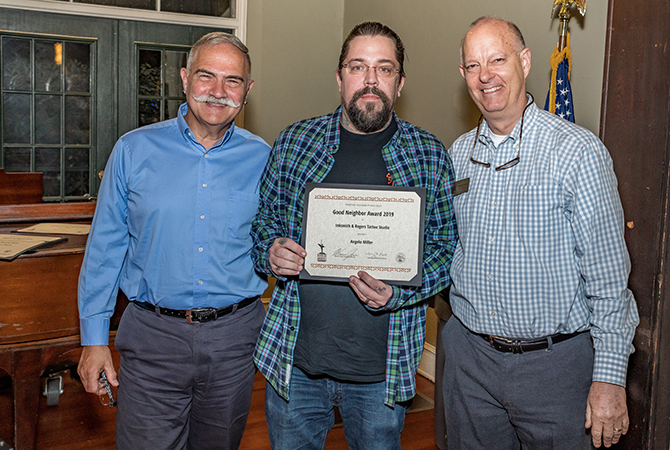 Good Neighbor Award
Winner: Angelo Miller, Inksmith & Rogers Tattoo Studio
When Inksmith & Rogers Tattooist Studio moved into its new location on Park Street they revitalized the structure and added new security lighting behind the building. That night when the new lights came on Richard Ceriello, who lives directly behind the building, realized something had drastically changed. He said the light came right into his bedroom, flooded the entire interior of his house.
He said, "At first I was thinking, should I build my fence to 15 feet, plant fast growing bamboo and black out my windows! I contemplated hiring a mediator to work with these new property owners. Finally, I just decided to walk around the block to Park Street and talk to them. I knocked on the door and was greeted by Angelo Miller, one of the partners. I introduced myself to him followed by, "I want to talk to you about your new lighting." Whereby he responded, "Oh, is it too bright?" I said, "Yes, way bright!!" He was very sincere in his apology and promised to change it out and direct the flood lights downward. Until the electrician arrived the following week, he would disconnect the lighting. I suggested he maintain lighting for safely, but to direct it downwards and reduce the intensity somewhat. He was very receptive to being a good neighbor and meeting me half way. We became fast friends and I fully believe he and the rest of the crew of Inksmith and Rogers deserves the Good Neighbor Award."
We do also.
Award of Service to our Community
City Council Member Jim Love
This is the last year Jim Love will be our district's council member. For the last eight years, Council Member Love served the citizens of our area with distinction. Riverside Avondale Preservation could not have asked for a greater supporter of our efforts. He advocated for historic preservation and worked through the bureaucracy of government when a resident or business owner could not get the assistance they needed. He took his work personally because he is our neighbor. To honor his passion for the good of our neighborhood and his tireless efforts to better our community Riverside Avondale Preservation awarded Jim with the Award of Service to our Community.
Kevin Kuzel
Kevin Kuzel is also a resident of Riverside and Jim's assistant in City Hall. We will miss Kevin's advocacy for our neighborhood and protection of what we hold dear. We rarely called Kevin about one issue without him telling us two issues we need to watch. That kind of knowledge base is very hard to find.